AccessU Online 2018 Schedule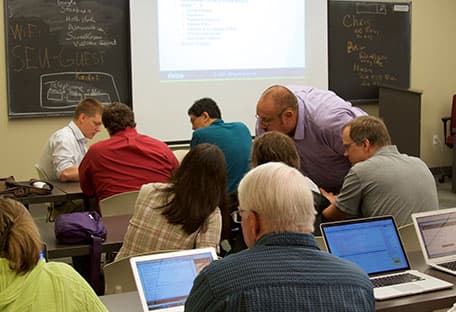 AccessU Online is a single day, single track virtual conference with six incredibly informative sessions from accessibility experts starting at 9am Central Time on Wednesday, May 16, 2018.
AccessU Online Schedule: May 16, 2018
Want to attend?
Registration for AccessU Online is only $125 for individuals and $249 for meeting room/large group attendance. With your registration, you'll have access to the live stream as well as unlimited replays.
AccessU 2018 is over. Stay tuned for future events from Knowbility!
9:00 am
to 9:50 am
Accessibility with HTML5
taught by: Becky Gibson
Learn about the new features in HTML5 that support accessibility. Becky will use new semantic elements and ARIA landmarks in HTML5 to update a simple newsletter for better accessibility. She will also highlight elements that improve usability and accessibility. There will be code!
10:00 am
to 10:50 am
Native Mobile App Testing Methodology iOS vs. Android
taught by: Jatin Vaishnav
Jatin will introduce automated testing tools, manual testing tools, and screen readers for mobile platforms. The session will include basic navigation concepts, how to configure or change settings for efficiency, and define an approach to testing mobile apps following the accessibility concepts. We will explore how to test for accessibility on iOS and Android platform using free and freely available testing tools.
11:00 am
to 11:50 am
Walk Through WAI Resources
taught by: Brent Bakken
Brent, who co-chairs the Education and Outreach Working Group at the WAI/W3C, will share recent developments from EOWG as well as demonstrate how advocates and accessibility practitioners can make the most of the free resources available to support your accessibility work whatever role you may have in the organization.
12:00 pm
to 1:30 pm
Lunch
Take a break, catch up on emails and stretch your legs!
1:30 pm
to 2:20 pm
AccessU Legal Update
taught by: Lainey Feingold
Lainey's legal updates are renowned for bringing us the most recent updates in the legal landscape and putting issues into perspective that you can use. Learn what recent legislative and court actions mean in the practical world and how to stay ahead of the curve.
2:30 pm
to 3:20 pm
Silver, the Next Gen Accessibility Standards
taught by: Jeanne Spellman
Seeking to improve the the ease of finding, using, and understanding relevant information in existing accessibility standards, a Community Group has gathered at the W3C to radically re-think and redesign the Guidelines. As co-chair of the Community Group, Jeanne will share project goals and work to date, including outcomes from a March 2018 design Sprint.
3:30 pm
to 4:20 pm
WordPress + Accessibility = Win!
taught by: Bobby Brooks
WordPress has been continually evolving to improve functionality to its users and to integrate accessibility into the effort. WordPress expert Bobby Brooks will help you understand what to expect from WordPress and how to maximize accessibility with resources that are already available. This session will include how to find an accessible ready theme, a look at plugin options to help remediate issues with existing themes, and others that help implement advanced features of accessibility.